Avant Window Navigator (Awn) is a dock-like bar which hosts shortcut links and open windows and applications. Therefor you may consider replacing your windolist applet in gnome panel with this one. It is also almost like the other windowlist screenlet that I talked about earlier.
It has good looking visual effects, you can set background patterns or jusr use its default semi transparent glassy appearance.

Long story short, go to synaptinc, then:
settings > repositories > third-party software
and add:
deb
http://download.tuxfamily.org/syzygy42/
feisty avant-window-navigator
then again in synaptic, click on reload button.
Now search for:
avant-window-navigator-svn
and have it installed. Then in terminal type:
avant-window-navigator &
and start having fun. If you like it, add it to your startup programs in sessions.
You should be aware of the fact that avant window navigator is not free of bugs. For instance, sometimes the background does not stay on top and you have to close the application and restart it to make it right. It also gets tricky sometimes, when you want to add a new application. The usual way to add new application is to drag and drop it on the bar.
But the good news is that once it is up and running, it runs (almost) flawlessly.
My personal advice is to use windowlist screenlet if you want something more stable. Though you won't have the integration of quick links and open windows under one roof. But if you are looking for something truly amazing, go for Avant window navigator.
Sharingan Perfect





Number of posts

: 850


Age

: 42


Registration date :

2008-03-12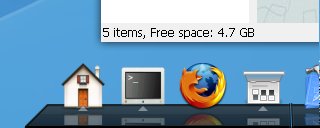 I had a post here as to how to install Avant Window Navigator.
You might have noticed that reflection is the new hot topic in user interface everywhere. And we have it here in Avant Window Navigator (AWN).
The effect I am discussing here, makes AWN very similar to the effect seen in upcoming OS X 10.5 (Leopard). So you have a chance to experience this cute visual effect in your lovely Linux environment!
If you have not installed AWN by now, follow the instructions in this post.
Then open Configuration Editor and go here:
apps>avant-window-navigator>bar
You should change a couple of settings here.
Change bar_angle to 45
and icon_offset to 18
Now restart AWN and you have it. Enjoy!
Sharingan Perfect





Number of posts

: 850


Age

: 42


Registration date :

2008-03-12




---
Permissions in this forum:
You
cannot
reply to topics in this forum